Is it just us or does the same thing happen every year? It's freezing for months and feels like spring's never going to arrive then suddenly April hits, the clocks have gone forward and the climate's positively tropical.
It's easy to get caught unprepared by the weather, so if you really want to get the most out of your garden, patio or balcony it's important to start early with your outdoor furniture.
Sure, outdoor furniture isn't essential. But more than any other part of the home, this is one area where your cost-per-chair (or table, or bench…) is almost ridiculously low compared to the joy you'll get out of being able to enjoy the great outdoors to the fullest.
Here's our list of 2017's three biggest trends you'll need to turn your outdoors space into a new room in its own right and have the best. Spring. Ever.
(Just don't blame us if it rains non-stop til October).
The colour pop trend
If you've read this blog before you'll know that we're pretty crazy about our bright colours. And if it sounds like we're on the Pantone p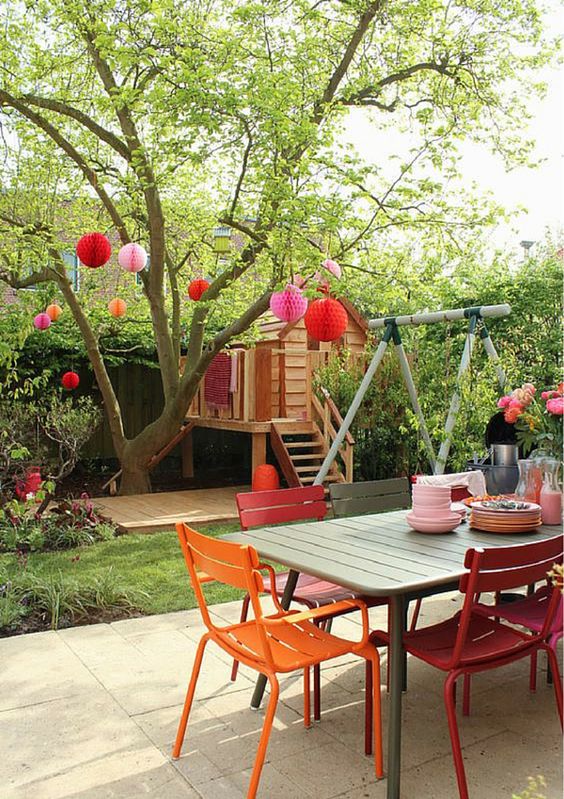 ayroll, it's just because we know these are the easiest way to transform a blank space, especially handy if you live in a rented property or have left it too long to plant some colourful flowers!
And don't be shy – the brighter the colours, the better they'll end up looking. After the pastels and muted hues of previous seasons (which we still love), 2017 looks set to be the year when the bolder the better. Don't believe us? Take a glance at Pinterest right now: its coolest outdoor boards are full of chairs in bright oranges, blistering tomato reds, acid greens, daffodil yellows and cobalt.
Plastic chairs are the ideal way to bring the colour-pop trend to your garden or patio as they're so hardwearing and can stand up to the elements. The key to the look is to make sure everything else is simple, so accessorise with wooden or metal dining tables in neutral hues and don't worry about fussy details like bunting – beautiful plants, a few candles and chairs in one or two strong colours is all you need to have guests wanting to move in.
Image from motleycraft-o-rama.tumblr.com
One twist we're envying on social media? Outdoor rocking chairs – seriously. The 21st-century answer to the sun lounger, a plastic rocking chair just needs a cushion or throw on top and you've got the perfect HQ for spending days sipping cocktails in the sun. You'll be feeling sorry for everyone who doesn't have a back garden!
The industrial trend
The long-lasting, tough materials of the industrial trend make it perfect for gardens and patios. There's something natural and simple about the dark woods, raw metallic finishes and gunmetal tones of this trend that just suits the great outdoors.
The secret to getting this look is in choosing furniture that combines metal and wood in minimalistic shapes – such as wooden chairs and tables with metal hinges or fastenings. Think minimal but with a more rustic finish – look out for pieces like stools with hairpin legs, which can double up as side tables, plus big sharing-style benches rather than individual dining chairs, which bring everyone together outside and give a space a more communal vibe. Even better, a set of two benches with a matching table.
And if you're worried about having wood outside, these days it's easy to waterproof it with the right treatments and there are plenty of guides online for how to maintain it and repair when it's water-damaged. Also keep an eye out for small stacking stools which you can stow inside and plastic sheets you can throw over your furniture when it's not in use.
The metallic trend
If it's been a trend indoors, you can expect it to translate to the outside too and that's true with all things metallic. In this case, metallic garden furniture and accessories can actually look even better in the wild as they make a beautiful contrast against the greens, stone colours and natural hues of your outdoor space.
Glam and luxurious while reflecting all that natural light, the easiest way to get this look is with a set of Xavier Pauchard-inspired Tolix stools, which are cheap, durable and stackable – and available in a treasure trove of metallic finishes such as the obvious coppers, chromes and golds but also subtle tones such as gunmetal, distressed silver and brass. The great thing about this iconic design is that they stack, so you can store them indoors and bring them out in a second when you've got guests, plus they're available in a range of heights and in the form of stools or dining chairs.